USS Quapaw Anchor Dedication
When:
07 Nov 2013 @ 16:00
2013-11-07T16:00:00+00:00
2013-11-07T16:30:00+00:00
Where:
Quapaw Museum
905 Whitebird Street
Quapaw, OK 74363
USA

Contact:
Freda Stinson
Home: 256.835.0137 Cel: 256.238.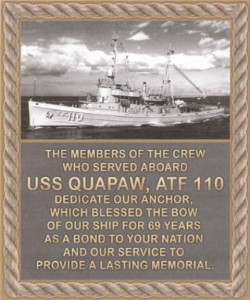 On November 7, 2013, a dedication ceremony will be in Quapaw, OK. All Quapaw Sailors and families are invited. Be thinking of Quapaw stories to tell the Indians about your ship.
The dedication is at 11:00 am with a luncheon and then a tour is scheduled. A mini Pow Wow is planned for the evening with a traditional dinner following. Special rates at the Downstream Casino Hotel will be available.
Quapaw, Oklahoma is in the upper right corner of Oklahoma. Joplin, Missouri is just across the state line from Quapaw and Tulsa. Oklahoma is around 100 miles to the west of Quapaw.
For those of you who plan to attend, the Quapaw Museum address is 905 White Bird Street, Quapaw, OK 74363. The phone number for the Museum is 918-674-2619.
Please reply by 30 August 2013